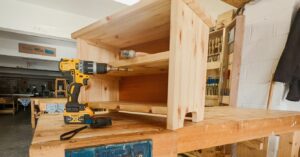 Wood Skills Evening Course sold out – Next Course Jan 2024 or Power Tools
Start your woodwork journey and get familiar with some of the basic tools and skills in woodworking.

Learn a whole heap of wood working skills each week from using a chop saw, router and sander to name a few.

Beginner level class, no previous experience needed.

Materials, tools and safety gear provided.
Here's a fantastic opportunity to join us for 8 weeks to start your wood working journey.

Build confidence knowing your way around power tools and saws.

During this course you will learn how to safely and effectively use a chopsaw, router and the ever required sander to name a few.  As you go along you will build your confidence and abilities in handling wood and creating a really useful structure. The project for this could will be a Shoe Rack. You never know, you could be making shoe racks for every room in your home and every neighbour in your street!

This is an 8-week course running on Monday 4th September from 7pm – 9:30pm. 

We are fully inclusive and all skill levels (18+) are welcome, however, please note that this course requires hand-eye coordination and the ability to follow precise instructions with regards to safety.

Suitable for beginners, this workshop is designed to provide you with a strong foundation to use your new skills at home.

Please read our terms and conditions here before booking.



INSTALLMENT OPTIONS


Can't pay the full amount up front?
Installment payment plans are available for Courses. Please email hello@benchspacecork.ie to book via installments.



NEXT COURSES AVAILABLE



Our next Wood Skills evening Course will be in Jan 2024:


Wood Skills Evening Course, 8 Weeks



Alternatively, in the meantime we have a Power Tools Course:
https://benchspacecork.ie/events/power_tools_6nov/

Any questions? Email hello@benchspacecork.ie
Sold out!