We've been working away over the last few months to fund and acquire some new equipment. From a combination of fundraising, donations and earnings from our classes, we have been able to provide some new machines in the workshop and these have come on line in the last few week. In no particular order:
The Rojek 400mm thicknesser.
This powerful 3 phase machine replaces the Startrite combination planer-thicknesser we've been using up to now. This should be a real boost to the makers in the workshop and should be available to the current Machine Skills class before they finish.
The SCM Surface Planer
We have had this machine for a while, it was serviced on Friday and the tables tuned up. Brendan has been surfacing elm on it for the afternoon, a good test for it. Its a vital piece of equipment for furniture makers allowing them flatten rough hardwood boards. The 2.5m table length makes this ideal for straightening long lengths of timber, for table tops, etc.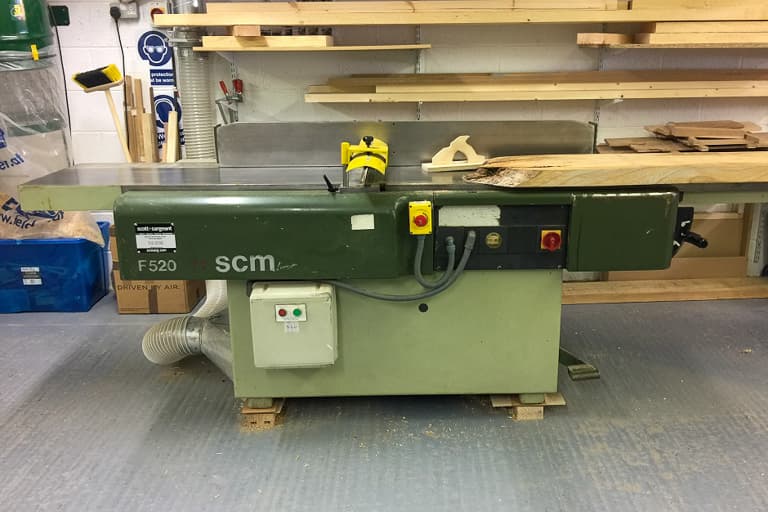 Trend T11 Router & Table
This is an excellent routing system, giving precision and safety. Features include 2000w router, feather boards, mitre fence and dust extraction. A great machine for profiling, grooving and rebating.
Festool Domino
We've had this machine in the workshop for a few weeks now, a very handy tool for fast joinery. They have replaced a lot of traditional mortice and tenon joinery but are a little expensive for all but the busiest makers. If you haven't heard of this machine its well worth looking it up.
Ultimaker 3D Printer
This one might seem a little out of place with all the woodwork gear but the Ultimaker 3D Printer is part of our push towards providing rapid prototyping technology. We received this one as a generous donation last week and we'll have it up and running just as soon as we've built a dust-proof cabinet for it. Lookout for introductory classes on this later in the year.
The equipment is available to our resident makers immediately, and will be covered in our Machine Skills classes in the near future. It is our plan to continuously upgrade the facilities at Benchspace, to provide the best professional making space we can to makers in Cork.