Are you interested in being creative and making jewellery? Here at benchspace we have an array of Jewellery Making classes to choose from – Make a Silver Pendant, Forge a Hammered Ring, Make a Silver Bangle, to name a few.
Check out all our classes here.
And for those who want to move their jewellery practice from the Kitchen Table, we offer a fantastic start-up pod, with access to the jewellery equipment you need, and the support of a creative community around you. Interested? To find out more, book a tour and we'd be delighted to show you around benchspace. 
Maker Spotlight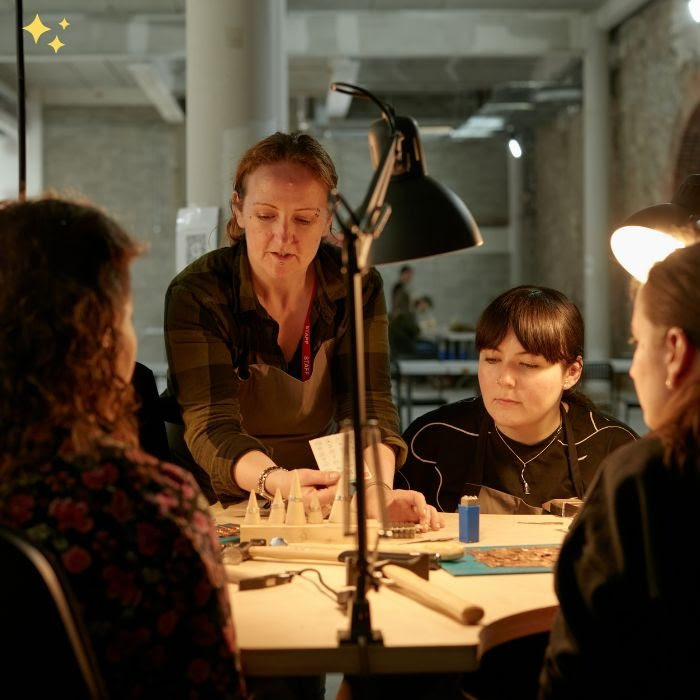 Nadine Lawton
Let's shine the spotlight on a Creator here in benchspace!
We've been chatting to our makers to understand the impact and benefits benchspace has on their business. This month, Nadine Lawton is in the spotlight. She is a wonderful tutor and a maker.
1/ Tell us a bit about yourself.
I'm a determined creative Scot that loves to be surrounded by positive people. I'm a mum to 3 boys and realise that sharing your knowledge and creating together is both therapeutic and rewarding.
2/ How does benchspace help in your creative process?
It's really inspiring being in a creative environment. Seeing other people create things ignites a spark in me that wants to make as well.
Through benchspace I'm able to connect with people who want to make, I love teaching them and watching them become engrossed in the process and amazed at what they achieve. I'm just buzzing after a class.
3/ What is your favourite thing about Benchspace?
Coming together in a creative community. Looking at each others work, admiring and encouraging each other.
Seeing the artists grow professionally and being part of Benchspace and helping it grow.
See more of Nadine Lawton on Instagram